Dear parents/carers
Maths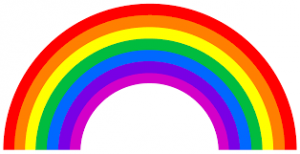 Children should have now brought home a letter to tell you about their new number bond Rainbow Maths Targets. We shall be working on these in class over the next couple of weeks. This work will help the children understand how to find pairs of numbers that make 10 using different resources.  This is an important step before developing instant recall of the number facts.
Any work you can do at home using practical objects e.g. Lego bricks, pasta shapes, counters etc will be of help. Here are some suggested activities:
Ask your child to count out 10 objects then divide the objects between 2 plates/baskets/boxes. How many objects in each? "There are 2 biscuits on the red plate and 8 biscuits on the blue plate. 2 and 8 make 10″
Build a picture of all the pairs of numbers that make 10. Use 2 different coloured objects e.g. red and blue counters. Make a line of objects, beginning with 1 red and 9 blue, then 2 red and 8 blue and so on. Help your child to be able to see the pattern as in the picture below. What do they notice about '3 and 7' and '7 and 3?'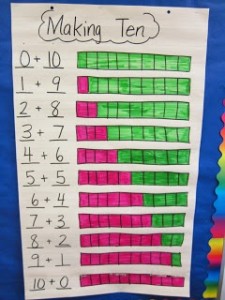 Ask your child to count out 10 objects and place them in a line. They close their eyes and you take some of the objects away. They then open their eyes and work out how many are left and how many you have hidden. Encourage them to use mathematical language e.g. "I have 3 teddies and you have 7 because 3 and 7 make 10"
Once your child is confident in these types of activities, they are then ready to work on developing their recall so that, for example, when you say '4' they say '6!'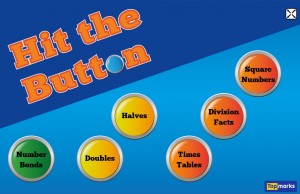 The Hit the Button app or website is really useful for developing recall as it times the number of correct answers in 1 minute.
Literacy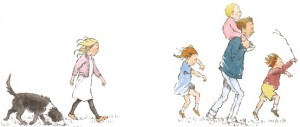 Next week we shall be continuing our work on Bears using the story 'We're Going on a Bear Hunt.' The children were introduced to this story in Reception to aid the transition to Year 1. We shall be drawing story maps and using actions to help them to be able to retell the story. Hopefully they will be keen to demonstrate their story telling skills at home!
Parent Visit
We would like to invite you into school for the opportunity to see your child learning in the Discovery Zone and Year 1 Garden.  We know that the children will be keen to show you the resources in each area and share with your our new Challenge Passports. If you are able to please come along from 2pm onwards on the following date:
Miss Horsepool's Class – Monday 10th October
Mrs Boscher's Class – Tuesday 11th October
Mrs Bramley's Class – Thursday 13th October
Resources for the Discovery Zone
If you have any spare (could be outdated) pasta, rice, lentils, dried beans etc at home then we would love to receive them to use in the Discovery Zone.
Also, we are always looking for clean junk modelling resources (cardboard boxes, tubes, plastic tubs and containers.) However, please can we ask that no milk or drink cartons or containers that have contained meat or fish are brought into school.
Reading Books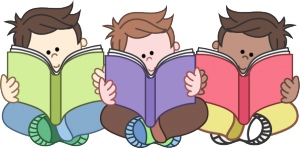 Just a reminder that children are given the opportunity to change their own reading books in school every day.  Could we please encourage you to write any comments about how your child is getting on with their reading at home in their purple reading record. Please note that these are checked as often as we can, although this may not be on a daily basis.
Welly Boots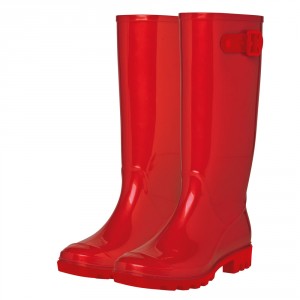 As we begin October the weather is beginning to feel more autumnal. We will continue to be using our outdoor learning environment, and so if your children does not yet have welly boots in school it would be great if they could bring a pair in.
Can we also ask that coats are brought into school every day because the weather can be very variable from morning to afternoon and the outdoor area is still accessible to children in wet weather.
Parents Appointments
Please check your email for an email from the office which explains how to book parents appointments for us for the week beginning 17th October. The booking system will be live from 3pm today.
Many thanks
Year 1 team